BEAUTYDIRECTORY is delighted to welcome 11 brands to the site. Below is a run down of the new additions and why they should be on your radar over the coming months and beyond.
Click on the brand names to find out more and download hi-res product images.
Schwarzkopf BIO-TECH by Extra Care
Schwarzkopf BIO-TECH by Extra Care combines Schwarzkopf's longstanding hair repair expertise with the incredible science of nature. All high-performing formulas contain liquid keratin to help repair existing damage and fortify the cell structure for future damage prevention, they also combine the latest hair technology with cutting-edge natural ingredients targeting specific hair needs. BIO-TECH follows the 'free from' philosophy delivering uncompromising performance.
Breaking convention. Breaking hearts. I Heart Revolution is here rollin' into your lives, to bring fun and happiness into your life, your dressing table and your hair.
Giving you all the goods to be extra AF and sparkly. Whether you have a sweet tooth, relish having fun with your hair, or you stand for self love and expression; I Heart Revolution is here for you.
Ilcsi (pronounced 'ilchi') believes that solutions can be found in nature for almost any skin problem including the visible signs of skin ageing, sun damage and acne prone skin, as well as loss of vitality, tone and radiance.
Founded in Hungary in 1958, the Ilcsi organic skincare range has been formulated, developed and nurtured to provide proactive and natural beauty solutions, helping to promote clear, balanced, revitalised and naturally glowing complexions around the world.
Skin Virtue is performance-based skincare with three distinct collections that deliver dramatic results for all skin types especially sensitive, allergic and irritated skin. 
Conceptualised in Australia, the Skin Virtue story evolved in response to the impact our harsh climate and lifestyle can have on skin. The focus for the range is on solving environmental, physiological and age-related concerns with formulations that have mastered the synergy of science and nature.
Skin Virtue harnesses innovative high dosage active ingredients to provide clinically proven results with potent vitamins, minerals, antioxidants and soothing marine and botanical extracts. It utilises active liposome and ionosome delivery systems to achieve maximum potency and maximum efficacy.
tbh Skincare, launched in March 2020, has partnered with a leading medical R&D company to bring to market a completely new patented technology for acne that disrupts biofilm, the key to treating acne-causing bacteria in the skin. The biofilm hack, abbreviated to 'tbh' is a medically backed, topical treatment for acne, without the side effects of the prescription products.
Acne not only affects the appearance of sufferers but as several studies show, it impacts a person's quality of life, self-esteem, and mood. tbh not only addresses the staggeringly high numbers of those suffering from acne with its new formula, but is also tackling the emotional aspects involved.
The products are cruelty-free and vegan, and the cleanser and cream are both manufactured in Australia. All of the outer packaging is sustainable and the brand is female founded and run.
GROW believes that everyone deserves healthier, happier hair. That's the brand's end game, in a nutshell. And in order to realise this, GROW dedicated time to rethink hair care.
That's how it came up with its everyday range of shampoos, conditioners and treatment products formulated to help you combat hair thinning and fragile hair and instead relish in longer, stronger and thicker, fuller hair. 
You might like to know too, that GROW products are locally made, sulphate, silicone, paraben free, cruelty free and vegan.
The Secret Skincare has been developed by Dr Clara Hurst and Dr Deb Cohen-Jones and is formulated to treat even the most challenging cosmetic conditions.
Each formulation contains a unique combination of prescription strength ingredients in a patented base, which provides the optimal carriage of these prescription strength compounds.
All products are paraben-free, sulphate free, vegan, fragrance-free and not tested on animals - bespoke skincare made for each individual customer.
With more products currently in development, Clara and Deb are excited to be expanding on the product range, which will work with the existing range to deliver even more incredible results.
Thinning hair is a broad issue, affecting 50% of men and women. Many available solutions serve to camouflage thinning. The innovative Nioxin approach inspired by skincare is different. Customised technologies deliver thicker, fuller-looking hair without side effects so you can thrive with newfound confidence.
Nioxin has found inspiration in premium skincare to supply advanced care for thinning hair. As an extension of facial skin, the scalp requires the same attention and treatment. The Nioxin range of products are designed to strengthen, nourish and repair thinning hair from its foundation.
Because scalp health creates hair health, this provides the perfect foundation for thicker, fuller-looking hair.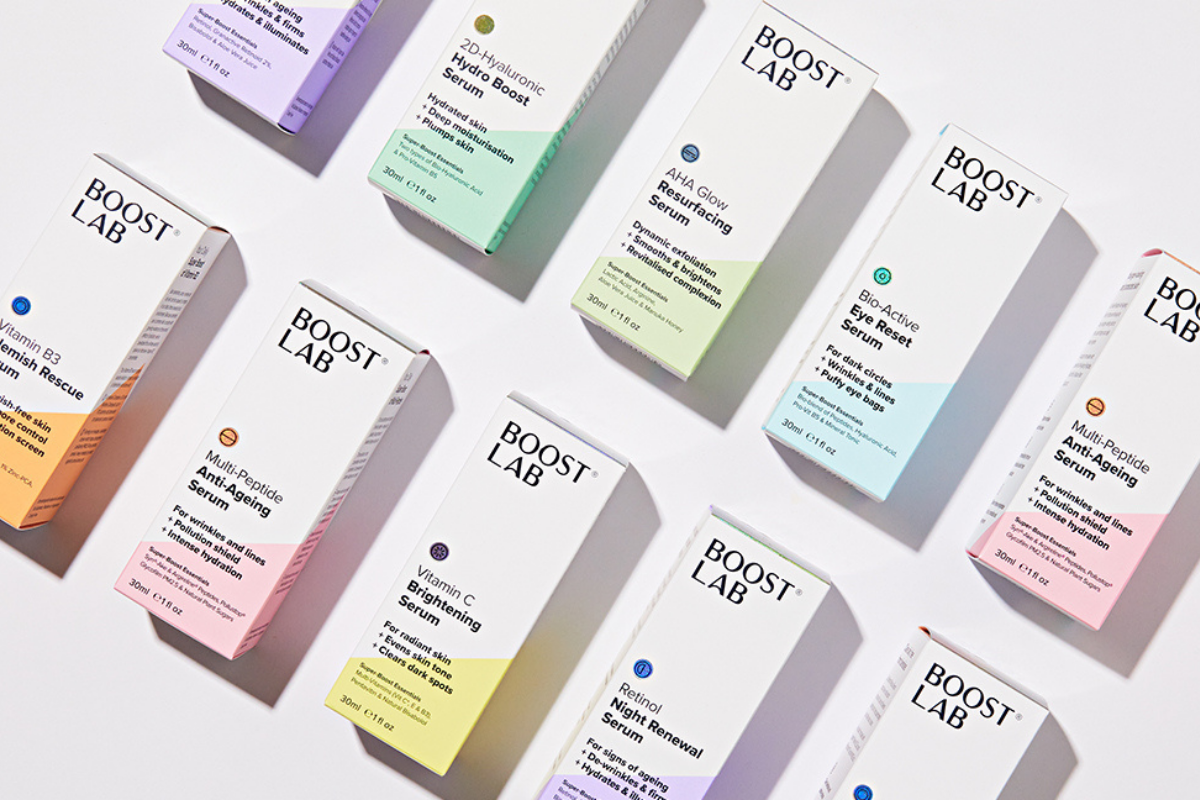 BOOST LAB is a revolutionary new range of single focus serums that puts the power to revitalise and create healthy-looking skin back in your hands. BOOST LAB believe you know your skin best and need products that are easy to understand and apply. So, the brand exists to help you precisely target and remedy your specific skin conditions and concerns.
BOOST LAB make it easy to super-charge your daily skincare routine with a collection of affordable serum formulas that absorb fast and give you that extra glow. In 3 simple steps, you can effortlessly integrate the serums into your daily skincare routine to give your skin the boost it needs, in the areas it needs it most.
Australian owned Dionysus Cosmetics offers a range of cruelty-free lashes. Designed with 100 per cent faux mink, the lashes are reusable up to 25 times and easy to apply.
As well as a range of lashes to suit all eye types and needs, Dionysus Cosmetics also offers a waterproof, two-in-one eyeliner and lash adhesive. It has a jet black felt tip and provides all-day wear, quick drying and easy removal with no leftover residue.
The philosophy behind AMPM Skincare is to provide skincare that is gentle, yet effective and provides hydration helping you get your best skin! AMPM Skincare is owned by an Aussie entrepreneur and founded to provide a natural alternative to current skincare on the market.
Each product has been selected for its natural properties and organic alternatives are used where possible. The brand uses Australian oils, fruits, extracts and natural preservatives. The products have zero toxins: no sulphates, parabens, sodium lauryl (SLS), petrochemicals, phthalates, artificial or synthetic ingredients. Under no circumstance does the brand perform animal testing on any of its products. The range is 100% vegan, Australian made and owned.